How to replace your kitchen doors
DIY Video Guides
How to measure kitchen doors, bedroom doors and drawer fronts
Helping you to replace your kitchen doors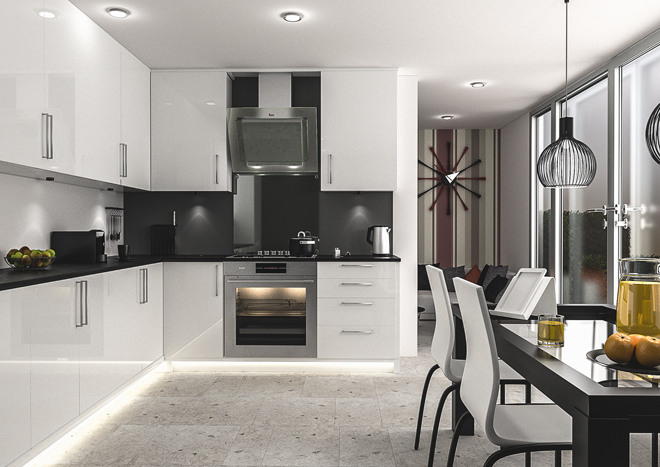 Replacement kitchen doors are a quick, affordable way to give your kitchen a new lease of life. With doors starting from just £2.99, you can transform the look of the room even if your time and budget are limited. Whether your current cabinet doors are a little tired, you need to replace just one or two doors, or you've inherited a style of kitchen you don't love, replacement kitchen doors are the perfect solution. If your kitchen's on the small side or doesn't get a lot of natural light, brighten up the room with white kitchen doors – they make a room look fresh, clean and modern in an instant. Plus, white goes with everything. High gloss doors are hugely popular, and for good reason – again, they'll modernize your kitchen immediately, and the shining surfaces will reflect light and make the room seem brighter. Whether you want a cool white or a bold colour, you'll find your perfect gloss doors right here.
In a rented property, or need a quick, failsafe choice? Plain kitchen doors are a crowd-pleaser – they'll suit any kitchen, they're easy to clean, and they're simple, sleek and modern. Shaker doors are another popular style of kitchen door, as they can look either traditional or more up-to-date, depending on the finish you choose. If you live in an older property, Shaker kitchen doors with a woodgrain finish will give you that classic, cosy look, and if your home is a new-build or a modern apartment, white, cream or coloured Shaker doors will fit right in. For fans of cool, minimalist style, handleless doors are an easy way to make an outdated kitchen feel more contemporary. The smooth surface of this design means there's nothing for you to catch yourself on as you move around the room, and perhaps best of all, handleless doors are great value – as you won't have to buy handles separately.
But if what you really want is a cosy cooking space full of traditional features, woodgrain kitchen doors are the way to go. We have a range of finishes, from rich, dark woodgrains to fresh, light shades, so no matter what the size and look of your kitchen, you'll find the woodgrain door that suits the room. Whether you're a complete beginner or a dab hand at DIY, you can fit your own kitchen doors without much trouble or stress. Our video guides and free downloadable book take you through the whole process, from measuring your units to fitting new handles. And as it's just the doors you're working on, mess, waste and hassle is kept to a minimum. Replacing your kitchen doors is much faster, cleaner, and less disruptive than a full kitchen refit. From the first coffee of the morning to your evening meal, a warm, welcoming kitchen truly turns a house into a home. Replacement kitchen doors can completely transform a room, so let us help you create your dream kitchen.
5 reasons why replacement kitchen doors beat a new fitted kitchen
Replacement kitchen doors are much cheaper
With a fitted kitchen costing many thousands of pounds its easy to see why so many people are choosing to replace just their cupboard doors.
It's quicker to replace your kitchen doors
It can take weeks, even months to fit a complete new kitchen, whereas you can quickly replace your kitchen doors in just a day or so.
It's easier to replace your kitchen doors
Fitting replacement kitchen doors is a simple and straightforward DIY project which can be attempted by anyone with a reasonable level of experience.
It's cleaner and a lot less hassle for you
Replacing your kitchen cupboard doors has almost none of the mess and disruption associated with fitting a complete kitchen.
Replacement kitchen doors are less wasteful
Nobody likes creating unnecessary waste, and ripping out a perfectly good kitchen just to change the style or colour of the doors is not only wasteful, but it's expensive too.