How to replace a dishwasher door
Tip - Integrated Appliances Are Different Than Standard Ones
Have you ever wondered why integrated appliances are more expensive than standard ones? - One reason is because they are designed to stand the heat which can be generated by being built in. We'd never recommend trying to build in, or fitting a door across any appliance which has not been specifically designed to be integrated. If you are unsure, please refer to your appliance manufacturer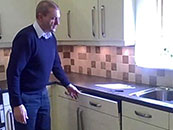 We often get asked "What type of door is needed for an integrated dishwasher?" And "What is the difference between an integrated appliance door and a standard door.?" There is no difference between the doors - they are exactly the same, it's really the way that they attach to the appliance that sets them aside from a normal door.
On your dishwasher at home you may have a full height door, or you may have one with a false drawer front with a door below it. Either way, the method of fitting is the same.
How To Remove The Door
The way that the door is attached may vary from one model to the next and if you have got the handbook for your dishwasher it will almost certainly show you how to remove it.
On may types of integrated dishwasher there are two fixing screws located half way down the side edge of the door (they may be concealed with a plastic cover. By removing these screws the outer door should lift off. You may find there are two further fixing screws at the top of the dishwasher door (on the inside).
Its worth noting that you are not trying to remove the actual appliance door - only the outer decorative door, which is attached to the appliance door. If in doubt consult the appliance manufacturer or handbook
Replacing Your Integrated Dishwasher Door
Once you have removed the old door - remove any fixing plates which are fitted to the back of the door as you will need to fit these onto the back of the new door. You can use the old door as a template for positioning them on the new door.
Tip - Fit The Handle Before Fitting The Door