How to fit heat deflectors
What Are Heat Deflectors?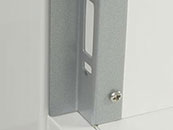 In simple terms, heat deflectors are designed to act as a protective barrier between a source of heat or steam and the edge of your new doors.
Heat deflectors are supplied as pairs. They come in two lengths 600mm and 700mm. Heat deflectors have a plain metal side which is what protects the edge of the door. A heat deflector fits to the edge of the cabinet not to the door. The length needs to be long enough to protect the edge of the door from an adjacent heat source.
How Do They Fit?
They sit on the front edge of a cabinet which is next to the source of heat or steam.
Offer the heat deflector up to the cabinet and see that there are various holes where it can be fixed sideways through the edge of the cabinet. Pre-drill those holes, a few short self-tapping wood screws just to hold the heat deflector in place and when the door shuts you will see that the whole edge of the door is protected from any heat or steam from any adjacent appliance.
An Ideal Precaution To Protect Your Doors
These heat deflectors are very easy and straight forward to fit and are a very good precaution to protect your new doors from heat damage from appliances.